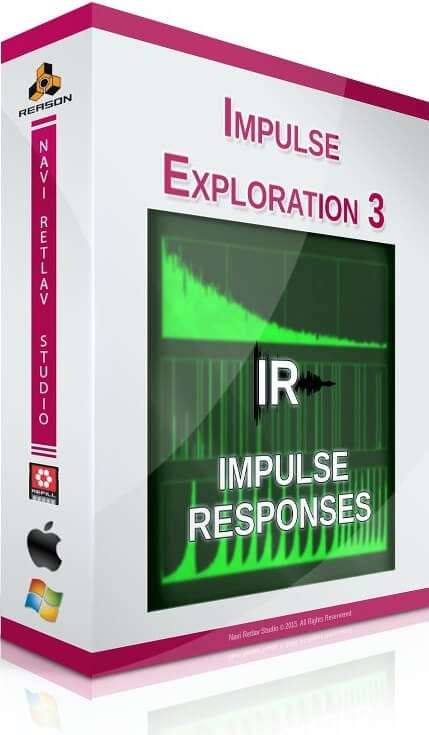 Navi Retlav Studio has announced the release of Impulse Exploration 3, a collection of 64 impulse responses.
The journey continues. This time we focused our attention on resonant chambers, unusual small-spaces, rooms and corridors (spiced with unique tonal character). These impulse responses will put your instruments in tight-spaces that are unreachable in the real world. Including organic, futuristic environments and psychedelic chambers, all surprisingly fitting in a natural way.

Just for this project, we pushed granular synthesis to the limits, mixing it with great sounding analog gear and a handful of our special algorithms, to make sure we delivered the most versatile and dynamics-rich product. Everything is ready for professional use, right out of the box; thanks to the precisely controlled tonality of the IRs.

You won't find anything like this in any other place, and we are fully proud of it. Just try it.
Impulse Exploration 3 features
64 impulse response samples.
48khz / 24bit wav files.
Compatible with any convolution-reverb software.
WAV or ReFill version.
The IR sample pack is available for purchase for $18 USD (WAV) / $24 USD (ReFill).
Impulse Exploration 3 is also included in the Impulse Boost Bundle.
Here is the perfect combination to fulfill your need for new impulse responses. With this bundle you get the bread and butter, as well as the most unique IRs you could imagine.

We crossed the limits of sound design, and used everything we could, from AM/FM synth, Cab and Mic Coloration up to granular-manipulations and field-recordings of outstanding places.

All treated with our special technique to make them tonally perfect and ready to use with any instrument. It's more than you could imagine.
The bundle includes:
NRS – Impulse Cabinetism
NRS – Impulse Exploration
NRS – Impulse Exploration 2
NRS – Impulse Exploration 3
The Impulse Boost Bundle is available for $65 USD (WAV) / $75 USD (ReFill).
More information: Navi Retlav Studio / Impulse Responses