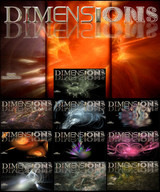 Necromare has released Dimensions, an experimental sample based instrument plug-in for Windows.
Mostly an Art Peice inspired by my love of the FANTASICAL. You select your Dimension and away you are wisked to another place and time.

Each instrument bears the name of the dimension you are visiting as well as it's own fractal art to represent the place. the waves involved were put together by me using some of my own samples as well as others free from the net.

The ambient keys can last for as long as 7 minutes in the lower registers. Happy Travels.
Necromare Dimensions is available as a free download for Windows (VST)
More information: Necromare