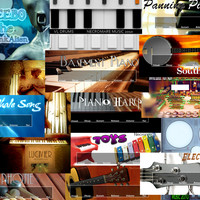 Necromare has released some more free sample-based VST instruments for Windows.
What can I say I love building instruments. I think it's part of being a composer, to finally make the sounds you need and want. I keep coming up with ideas for instruments and there seems to be no end. I already have 50 plus most in the testing stages. Looks like I will be releasing them well into next year.
New Necromare plug-ins
The Panning Piano

– Simple piano that automatically pans left and right slowly as you play. Good for filing out a mix. The last octave includes some piano screeches.

Piano Harp

– Imagine if you played the piano like a harp? What would it sound like? It would sound like this VST great sound for mystical or romantic moods. Included in the last octave are Gliss samples for effect.

Simple Acoustic Guitar

– Straight Foward guitar. Good for picking or sketch work.

Soft Mallet Xylophone

– The xylophone played with a soft mallet. Velocity sensitive over 4 octaves.

Toys

– Toy Piano, a small scale piano with a tiny sound + an electronic children's piano with baby xylophones instrument.

VL-1 Drum

– Drum sounds from the Casio VL-1 keyboard/calculator.

Zeboo Drum Kit

– Acoustic drum kit, GM Mapped. The last octaves are samples of Zeboo himself!

Lucivier

– The keyboard produces a celesta like tone while pipes produce flute like sounds at the same time. The bottom octave and the last are the sounds produced by using the three pedals on the bottom.

Kazoo

– The only instrument you need little to no experience to play. So why not try a VST. It's a bit harsh but fun to knock around with.

Gamelan Music

– Three Gamelan instruments: Reyong, Gangsa and Calung.

Electric Bass

– Simple Electric Bass, keys are velocity sensitive to give a short note on harder strikes. The upper octaves include a classic bass slide.

Whale Song

– Made from CC whale song files. Includes a whale purr, a trumpet, gentle underwater sound fx, and more.

Sinsonic Drums

– Like many old toys from the past some have actually been used by pros. Mattel Synsonic drums have been used by kraftwerk and others. This is a knock off the original pays tribute to our toys of a bygone era.

Basement Piano

– Most homes might have one of these lurking in there corner basement. An old upright that you may have learned to play piano on or liked to beat on. Either way this pleasant piano will convey a warm nostalgic sound for your next tune.

Southern Banjo

– For some there is nothing like the sound of a picked banjo. for others they can do without. This is an attempt to faithfully recreate the sound of a great instrument.
The Necromare instruments are available as freeware VST plug-ins for Windows PC.
More information: Necromare