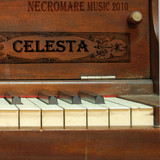 Necromare has released three new free sample-based VST instruments for Windows.
New Necromare plug-ins
Waterphones, featuring sounds from the waterphone instrument – The mysteriously cool Waterphone..well plural. There are two instruments in one here. The lower octaves are a traditional waterphone. The Upper octaves are a vel sensitive experimental waterphone sound.
Celesta, instrument with a soft dream like sound sampled over 4 octaves. plus a body hit sound at the last octave.
Finger Pop, comprised of three waves spread across the keyboard. includes recordings of a low, med and hi finger pop for variety. Simple but might be good for rhythm padding.
Necromare plug-ins are available to download at no cost. Donations are appreciated.
More information: Necromare