Beat Magazine has announced that its 01/2021 edition comes with the Nepheton drum machine plugin by D16 Group.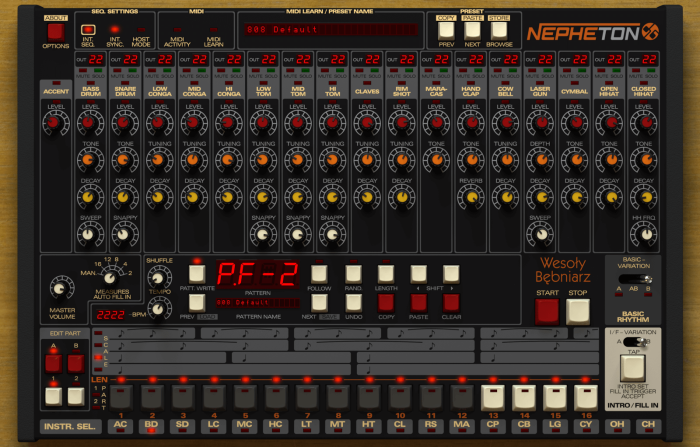 No other drum machine has been copied in hardware or software as often as Roland's TR-808, and it's no wonder. It has, after all, influenced countless musical genres, from Hip Hop and Electro to Techno and House to R&B, Pop and Trap. One of the best virtual replicas of this cult device is without doubt the d16 Nepheton. The full version is part of the latest Beat issue #180.
Also included with the magazine is the XXL Overdrive & Filter Bundle, a collection of 5 audio plugins.
Distortion, Filtering and Tape Saturation are not only among the most popular effects, but also the most effective tools for sound shaping of drums and synths. In particular, the classic amp overdrive from cassette decks provided that magical sound years ago. The XXL bundle features five selected plug-ins to give drums, instruments and vocals a subtle to aggressive, as well as a richer sound.
Furthermore, the magazine comes with the LoFi EDM expansion pack for Zampler and Akai MPC, featuring over 100 crunchy patches.
Lo-Fi is the new chic. From Hip- and Glitch-Hop, Downtempo and Chillout to Trap and EDM, this crunchy retro sound has already infected numerous music styles and there's no end in sight! Therefore, there's no need to worry, here Beat provides 108 patches of the finest material, which will make room in any mix with its massive rough but charming sound. Ready to go for Zampler and the current range of Akai MPC hard- and software.
Issue 01/2021 is available for 5.49 EUR as single PDF issue or as subscription at Plugs & Samples. Yearly subscribers at Plugs & Samples get access to 90+ back issues of Beat Magazine, including all the software highlights (while stocks last).
More information: Beat