Devious Machines has announced the release of Duck, a new volume LFO effect plugin for Windows and Mac.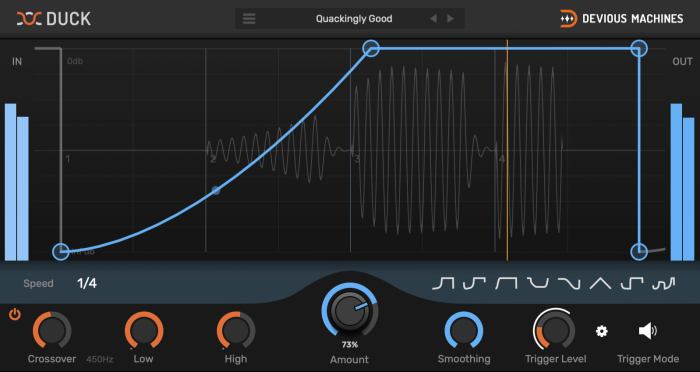 Duck joins other tools such as LFO Tool, VolumeShaper and Multiband Sidechain, offering a new take on the sidechain pumping technique.
Get essential sidechain pumping, trance gating, tremolo, and many more effects with Duck, the creative volume LFO by Devious Machines.

Duck's draw-your-own curve window makes it easy to design a custom volume shape that repeats at a speed and depth of your choice. For more control, you can pump low and high frequencies at different depths, with an adjustable crossover to tune the two bands. Duck can be triggered with audio from a sidechain input or by MIDI notes, making it respond to irregular rhythms or custom signals.
Duck features
Instant sidechain pumping as soon as you load the plugin.
Cleaner, louder and more exciting mixes.
Choose from 8 quick preset curves or 72 creative patches.
Draw your own curves and rhythms to use now, or save them later.
Set overall pump, or apply to low/high bands with crossover control.
Run Duck in Repeat mode, or trigger with sidechained audio or MIDI.
Smoothing control to remove clicks: including super-accurate pre-smoothing algorithm when in LFO mode.
Run on individual tracks, groups or your master bus for different effects.
Low CPU usage means you can run Duck on loads of tracks.
Mac and Windows: VST2/VST3/AU/AAX plugin.
The plugin is on sale for the intro price of £18 GBP/$24 USD for a limited time only (regular £20 GBP/$27 USD).
More information: Devious Machines