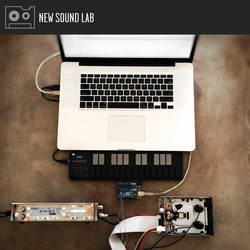 New Sound Lab has announced NSL012 Floppy Drives, a sound library featuring recordings of seven computer disk drives: two 3.5″ floppy drives, one 5.25″ floppy drive, three Zip drives, and one SuperDisk drive.
All drives were taken apart to access and manipulate the stepper/eject motors to create unique sounds. These range from electronic percussive bleeps and glitchy noises, to electromechanical motor movements.

An Arduino UNO microcontroller board was connected to one of the 3.5″ floppy drives, allowing precise control of the drive's stepper motor via custom software code. A midi keyboard was interfaced to the system, giving the ability to control the back-and-forth movement of the read/write heads via notes on the keyboard. This esentially turned the drive into an instrument, producing a new set of sounds not existing in the drive's normal functions.

Sounds were captured using a pair of induction coil pickups, Barcus Berry contact mics, and a Sanken CSS-5 shotgun microphone, into a Sound Devices 702 recorder.
Floppy Drives features
665 sounds in 155 Broadcast Wave files at 24bit – 192khz (135 mono / 20 stereo).
Library size is 1.2 GB.
All files are organized and tagged with metadata, compatible with Pro Tools, Audiofinder, Soundminer and other sound library management software Metadata.
PDF included.
The sound library is available to purchase for $45 USD.
More information: New Sound Lab / Floppy Drives