Splice has announced the launch of some new subscription plans, including weekly tutorials, new plugins, and fresh sounds to keep you inspired.
Included in all new plans is Splice Bridge, a new tool that connects Splice Sounds with your DAW in a more powerful way than ever before.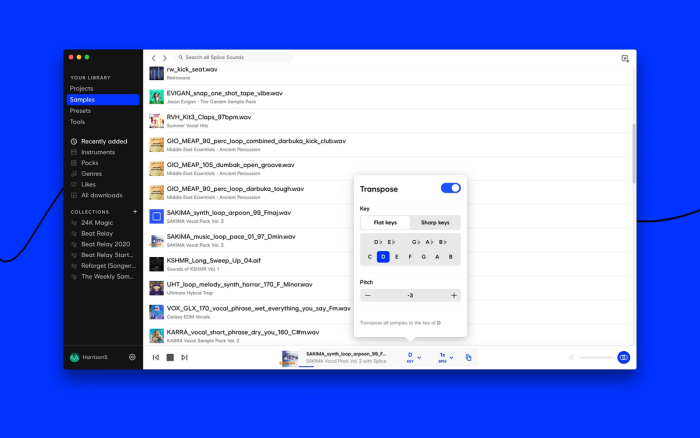 With Splice Bridge, you can now match your samples' key and tempo to your track, so you can easily try out sounds before you commit to buying them. Save time, save credits, and most importantly, save your creative energy.
Additionally, two new virtual instruments are exclusive to the Creator and Creator+ plans.
Beatmaker is a lightweight plugin featuring a sleek 4×2 grid that can support up to eight different sounds simultaneously.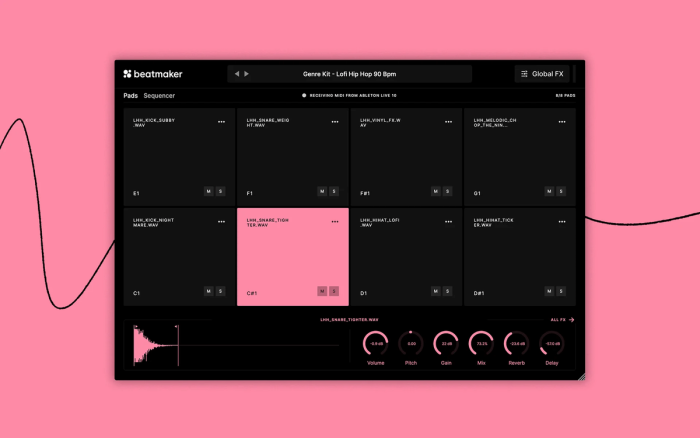 Whether it's a pumping house beat or an understated jazz groove, drums often serve as the foundation that ties our music together. For this reason, we want the beats we hear to feel just right and naturally flow through us, as something we feel both intrinsically and instinctively.

When it comes to making music, it's important that this frictionless experience of rhythms extends beyond our listening experience and into our production process as well—we want to be able to quickly act on our immediate creative instincts, without barriers or clunky workflows getting in the way.

Splice's new Beatmaker empowers us to do just that. Designed for creative efficiency, Beatmaker allows you to craft grooves and define your sound in minutes.
The new Astra versatile software synth is capable of is achieving a wide range of unique tones.
It comes with hundreds of built in wavetables, samples, and granular sources can be mixed endlessly to give you tons of unique sounds and starting points.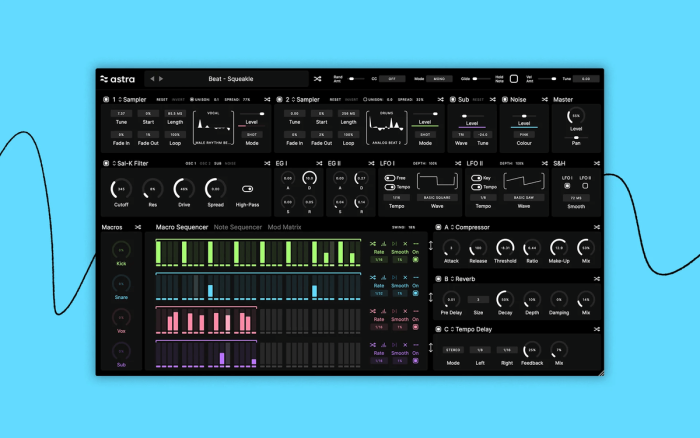 When we set out to create this instrument back in 2018, we wanted to provide the widest possible range of functionality—pushing the technical envelope as far as we could go—without making it feel overwhelming or all-over-the-place. For me, the sweet spot with an instrument comes when the creative process is simplified, not overcomplicated with too many options or menus.

Ultimately, the speed at which the end user can come up with high-quality sounds is the single most important factor with Astra; cumbersome preset load times and slow interface graphics are nowhere to be found. Almost all of Astra's features can be viewed simultaneously in its open-ended interface, without the need to click into complex menus or multiple tabs. The interface can freely be resized by dragging the bottom right corner.

Astra has two main, identical oscillators. Each one is configurable to be used for virtual analog, FM, granular, sampler, or wavetable-based synthesis. There's also a sub oscillator, noise generator, multi-mode filter, two envelope generators, two LFOs, a sample & hold section, and a comprehensive effects engine.
The Creator and Creator+ plans also include Skills, weekly tutorials to help you learn how to get the most out of your tools, push past creative blocks and avoid a graveyard full of unfinished projects.
The new plans are available now:
Sounds+ (100 monthly Sound credits): $9.99 USD/month.
Creator (200 monthly Sound credits): $19.99 USD/month.
Creator+ (500 monthly Sound credits): $19.99 USD/month.
More information: Splice