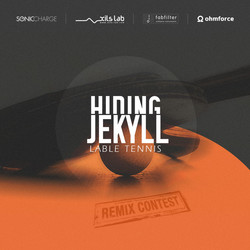 Newpool Music has announced its Lable Tennis Remix Contest, a chance to remix a track by Hiding Jekyll and win prizes from Ohmforce, Sonic Charge, Fabfilter and XILS-Lab.
Hiding Jekyll's open minded journey through different electronic styles along with his continuous testing of various live setups finally matured to become a real trademark sound. His aspiration to organize the material in a way that makes it possible to constantly manipulate his tracks, thus comprising both a unique studio and live performance which sometimes can't be repeated another time, is his strife for authenticity. This is the core of Hiding Jekyll, a name which is synonymous with his activities as a producer and live unit.

With his single Lable Tennis, out in spring 2014, we want to give you the opportunity to create a remix of this minimalistic beauty. You'll be able to win some valuable prizes from Sonic Charge, Ohm Force, Fabfilter and XILS-Lab. Just be sure to read the instructions and follow our terms and conditions. We wish you good luck and a lot of fun.
The submission phase begins January 27th, 2014 and ends February 27th, 2014 at 23:59 UTC. The decision phase begins February 28th and ends March 3rd. The winners will be announced soon after.
More information: Newpool Music / Lable Tennis Remix Contest