Nextmidi has announced an update to the Divisimate realtime MIDI divisi engine for Windows and Mac. Version 1.2 introduces a variety of different features and improvements to the orchestration tool.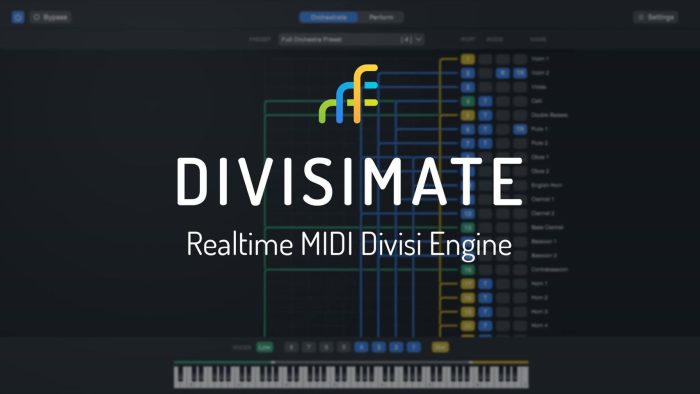 The most prominent of the new additions is the possibility to choose from three different Divisi Modes. These allow the user to select different methods of assigning live note input to individual instrument parts. Since no splitting algorithm can perfectly suit every musical situation, these additional options enable new ways of working both live and in the studio.
Other notable additions are the support for Polyphonic Aftertouch and changes to the modifier plugins to simplify the changing of articulations.
Changes in Divisimate v1.2
New Feature: Select between three different divisi modes in the Divisi Mode menu on the left side of the voice selectors:

Bottom Up: The original Divisimode, if less notes than voices are played, they will be assigned from the lowest voice upward unless memory voicings are available.
Top Down: The same as Bottom Up, only the assignment starts from the top down, giving a preference to melodies in the top voice.
Fill Voices: All voices are always playing – if only one note is played, it will be duplicated on all voices. If more active voices are available than notes are played they will be distributed and doubled as evenly as possible across the available voices.

Fill Voices will be the default mode for empty patches from now on, old presets will be loaded with the "Bottom Up" mode selected.

New Feature: Added option to exclude any of the three ranges from transposition within Transposer Plugins to allow universal keyswitching.
New Feature: Polyphonic Aftertouch is now supported and distributed according to the voice routing.
New Feature: Option to temporarily bypass individual plugins (Shortcut Mac/PC: Cmd/Ctrl+Click).
New Feature: Trigger Plugin can now also send program change messages.
New Feature: Option to deactivate MIDI Remote control by Program Change or CC31 on the "Remote Setup" page.
Added: Visual indicators for drag & drop of plugins.
Added: Trigger Row will fire when activated.
Fixed: Humanization will now always affect all ports, and not exclude the first routing of each voice.
Fixed: Include Error codes for common activation problems .
Fixed: Graphical details of Transposer and Trigger Interface.
Fixed: A bug was fixed where particular ports would not be usable on some Windows systems.
Fixed: On offline systems Divisimate will no longer lock the activation after a certain time without internet connection.
Fixed: Remote Setup will no longer display superfluous adresses.
Fixed: Factory presets are now loaded correctly if no other perform page setup is available.
Divisimate costs $199 USD / 209 EUR incl. VAT. It is on sale at a 15% discount until August 4th, 2020. The 1.2 update is available as a free download to all existing users of Divisimate.
More information: Nextmidi