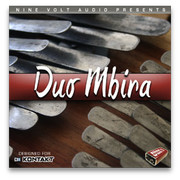 Nine Volt Audio has announced the release of Duo – Mbira for Native Instruments Kontakt 3 or higher.
With origins dating to the 1500s, the mbira's combination of driving melody, rhythm and percussive "zing" has deep spiritual and cultural roots to areas of Africa. Sometimes referred to as a "finger xylophone", mbiras are equipped with hand-forged iron "keys" attached to a wooden sounding board, specially chosen for their resonate qualities. Keys are plucked with the thumbs and an index finger.

At first glance the mbira resembles a kalimba, but unlike the uniform keys found on a kalimba, the mbira uses keys of varying widths, weight and thickness to create tones richer in upper harmonics and low overtones.

As part of Nine Volt Audio's Duo line of products, we've recorded TWO mbiras. The larger mbira dzavadzimu originates from Zimbabwe and has 23 keys with its lowest note measuring over 7" long. The nyunga nyunga is a smaller 14 key mbira with traditional buzzers (which can be turned on or off). Having two different sampled instruments allows composers to create the signature interlocking musical relationships found in mbira music and can make one feel as if they are sitting between two players.

With over 3000 samples and patches that range from natural and earthy to reinforced and modern, Duo puts the intimate sound of the mbria at your fingertips.
Duo – Mbira for Kontakt features
Over 1.5 GB of 44.1kHz/24bit samples and 32 Kontakt 3.5/4 instrument patches and multis. Download is 950 MB.
Core natural patches are offered in "Lite", "Medium" and "Large" sizes to accommodate different levels of RAM and CPU usage. "Large" patches have 80-100 samples per note sampled on both instruments. User interface controls are available to control the depth of automatic sample rotation and other humanization features. Humanization can approximate 8-10×10 round robin and beyond.
"Duo" patches are available allowing for the simulation of two people playing simultaneously. These patches have additional "Spread" interface controls.
Arpeggiator patches and multis include 12 patterns per patch. Patterns 1-6 are duple meter (2/4, 4/4), patterns 7-10 triple meter (3/4, 6/8), and patterns 11 and 12 are 5/4 and 7/8, respectively.
User interface controls are available to alter chromatic playing modes to the instruments' original keys and scales – along with numerous other keys and scales.
Additional user interface controls include: convolution reverb (with 14 custom IR .wavs), saturation, stereo width, velocity curve, low and high pass filters, delay, low, mid and high EQ gain, AHDSR, remap knob and humanization.
Duo – Mbira is available to purchase for $59.99 USD.
More information: Nine Volt Audio / Duo – Mbira