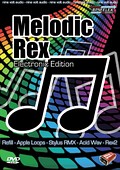 Nine Volt Audio has released Melodic REX: Electronic Edition, a collection of melody lines, textural leads and groove-based tonal loops in the REX2 format.
By crossing electronic sound sources with beat-synced filters, swirling delays, modulators and a range of other sound design tools, Melodic REX's 500+ loops can be used quickly and easily as melodic focal points in a track or as rich, tonal backdrops.
Melodic REX: Electronic Edition features
503 REX2 files organized into 50 suites covering a tempo range of 80-139 BPM. Using the loops within Stylus RMX requires the user to drag-and-drop only one folder into RMX's included S.A.G.E.™ Converter.
29 combo suites that present an "A" and "B" loop group. Loops in combo suites play with and counter to one another creating multi-part musical passages and the ability to create fuller sounding mixes.
Any of the REX2-based loops (used in Stylus RMX, Reason, and most major sequencers like Cubase, Live, Sonar, Digital Performer, ProTools, Logic) can be used at tempos as slow as 60 BPM.
Also contains the Apple Loop, ACIDized Wav and Reason ReFill formats, all in 24-bit/44.1kHz resolution.
All loop file names identify the musical key and/or chord progression.
Available on DVD or via Download.
Melodic REX: Electronic Edition is available now for $99 USD.
Visit Nine Volt Audio for more information and audio demos.