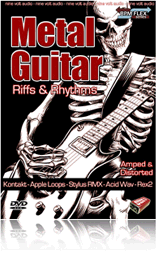 Nine Volt Audio has announced the release of Metal Guitar: Riffs & Rhythms, a sample library featuring over 7GB of metal guitar sounds.
From bold and belligerent drop-tuned rhythms to rapid-fire upper register riffs, Metal Guitar is an intense and ultra flexible collection appropriate for any producer's six-string toolbox.

Designed to bridge the gap between the compositional flexibility of a sampled instrument and the inspiration found when using loops, Metal Guitar takes a brute force approach by offering 293 unique patterns recorded at 15 chromatic intervals for a total of 4395 loops. This approach brings performance variation, compositional immediacy and added realism since the need to rely on pitch-shifting is virtually non-existent.

And as part of Nine Volt Audio's BPM Flex Series™, every loop in Metal Guitar can be used at virtually any tempo with no artificial stretching. Apple Loop and Acid Wav users will find a special utility that allows the extraction of any loop, suite or the entire collection at any tempo, down to 85 BPM. Need the entire Metal Guitar library at tempos 110, 135, 152 and 170? No problem!

With all parts double-tracked, guitars tuned to low C and MIDI bassline files for every pattern, Metal Guitar is a one-stop-shop for heavy rhythms and blazing riffs.
Metal Guitar is available in an Amped & Distorted Edition or a Clean & Direct Edition for $109.99 USD each, or bundle on a double DVD Combo set for $144.98 USD (save $75 USD).
More information: Nine Volt Audio / Metal Guitar: Riffs & Rhythms