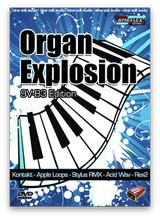 Nine Volt Audio has announced the release of Organ Explosion: 9V-B3 Edition, a multi-format sample library.
Featuring the sounds of the Hammond® B-3, Organ Explosion presents 20 tightly organized song suites covering funk, blues, jazz, rock and more. With rhythmic bursts, bubbling riffs and fat back grooves, the 700+ loop collection is a go-to source for raw, infectious and emotive playing.

The Organ Explosion library takes a new an inventive approach by placing left and right hand performances into separate loops. While the left hand lays down solid basslines and the right pumps rhythm and melodies, composers have the freedom to combine loops for complete performances and the flexibility to separate them, opening up additional creative and compositional options.

And as part of the BPM Flex Series™, every REX-based loop (used in Stylus RMX and Kontakt) can be used at a huge range of tempos with no artificial stretching. Need to slow some fiery 140 BPM grooves to a 90 BPM swinging blues? No problem!

Sounding spontaneous, simple and sophisticated, Organ Explosion goes from Saturday night's jam to Sunday morning's gospel sermon with style, syncopation and soul.
Organ Explosion: 9V-B3 Edition features
Organ Explosion features 706 loops in the REX2, Stylus RMX, Kontakt, ACIDized Wav and Apple Loop formats.
The collection is organized into 20 song suites. Each suite has clearly labeled song parts (i.e. riffs, progressions, transitions, grooves, etc.), clearly labeled key/chord progressions in the file name and an "L" or "R" to indicate the hand that is playing the loop.
Any of the REX-based loops (used in Stylus RMX, Reason, Kontakt and most major sequencers like Cubase, Live, Sonar, Digital Performer, ProTools, Logic) can be used at tempos as slow as 75 BPM with no artificial stretching.
Using Organ Explosion within Stylus RMX requires the user to drag-and-drop one folder into RMX's included S.A.G.E. Converter.
Twenty patches for Kontakt are supplied. Extensive user interface controls and ease-of-use features are available on every patch. Organ Explosion is compatible with full retail versions of Kontakt 3.5 and up. The free Kontakt Player will only allow for 30 minutes of unrestricted use.
Download size for ACIDized Wav and Apple Loop formats is 1040 MB. Download for REX2/Stylus RMX/Kontakt is 715 MB.
All loops are in 44.1kHz/24bit resolution.
Organ Explosion is available on DVD or as a download for $99.99 USD.
More information: Nine Volt Audio / Organ Explosion: 9V-B3 Edition