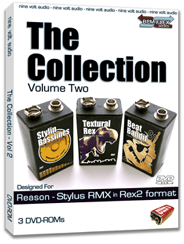 Nine Volt Audio has released The Collection Vol 2, a REX-based loop library.
With melody from Textural REX, rhythm from Beat Bandit and low end from Stylin Basslines, Nine Volt Audio's The Collection Vol Two is a REX-based loop library that combines inspiring sounds with user flexibility and a $40.00 discounted price over purchasing each title separately.
Features
three DVD-ROM set or download and features 100% copyright free loops
a combined 1700+ REX2 format loops, 270+ Stylus RMX Suites, 180 Stylus RMX Multi presets, 50 Stylus RMX Kit presets and 50 MIDI file drum grooves
Textural REX features 19 combo suites that present an "A" and "B" loop group. Loops in combo suites play with and counter to one another creating multipart musical passages and the ability to create fuller sounding mixes
Beat Bandit is organized into 60 "Beat Suites". Each Beat Suite contains a full-mix beat, a full-mix beat without the kick, a full-mix beat without the snare, percussion & hi-hat mix, and a loop for each individual instrument from the full-mix. Individual folders containing solo loops of kicks, kick 4xs, snares, hi-hats, percussion, hi-hat & percussion mixes, tonal fx and claps have also been created for quick beat creation from the ground up
Textural REX and Stylin Basslines file names identify the musical key and/or chord progression
Visit Nine Volt Audio for more information and audio demos.