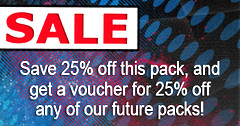 No Dough Music has announced a summer sale, offering 25% off its NDS-1 House Music sample library.
We thought it was time we gave something back to everyone so we have devised a special deal that will help you stock up your studio while its hot, for the long cold winter months spent making music.
No Dough Music is offering 25% off its flagship product NDS-1, which includes classic sounds meticulously sampled and tweaked so there ready to use in your tracks, featuring:
Tape Machine Drums & Percussion – Classic drum machines sampled through 2 different tape machines.
MPC Drums & Percussion – Drum samples sampled straight through one of the classic and highly sought after samplers.
63 Multi-sampled Analogue Synths – We took some of the classic analogue's that defined the 80's and 90's and with some expert sound design sampled an array of new and great sounding program instruments for you to use in the sampler of your choice. Get the vintage, fat and lush tone of the most sought after hardware in your mixes.
The sale pack includes much more, including a collection of inspirational loops and compositions which include the midi files to give you as much flexibility when your working.
Anyone who purchases the pack between now and the end of the sale will get an additional voucher for 25% off their choice, of one of 3 upcoming sample packs:
NDS-2 SuperAlpha – A synth that epitomises the sound of the late 80's and 90's, we have taken the Alpha Juno and crafted over 150 hybrid sampler instruments, in super high quality and through chains of outboard equipment we have created a beast. This thing stinks of the 90's and sounds great!
NDS-3 ClassicFM – The FM sound is very distinctive and has created some of the more unique and memorable sounds in modern music. This pack epitomises the best of Analogue FM Synthesisers, from the DX7 to Tx81z we have created over 150 hybrid sample instruments that bring some of the most famous, and unqiue sounding synths to the sampler of your choice.
NDS-4 Ob8 – The Oberheim Sound, a thorough sampling of the classic sound presented as hybrid sample instruments, more info to come soon.
The NDS-1 sample pack is now available for –29.99 GBP.
More information: No Dough Music