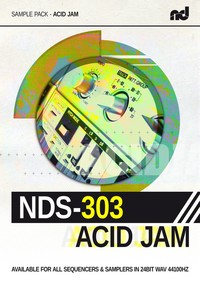 Sounds To Sample has introduced NDS-303 Acid Jam, a sample library by No Dough Samples featuring the sounds of the Roland TB-303 synthesizer.
In this pack we have put together a collection of loops recorded through the best analogue equipment to preserve the reality of the 303 as you would use it in the studio. Then to capture the multitude of different styles, vibes and feelings possible with the synth, we sampled many different variations for each pattern on the sequencer to give you the options you need when your producing. If you find a pattern you like but need more resonance, more cut-off…or the same loop but in a crazy acid distortion vibe….it's in this pack.

On top of that wide selection of loops, we have also sampled this beast through the same vintage equipment used on some of the classic tracks that defined Acid House, and also through some more contemporary tube based analogue gear to give you all the options in terms of tone and style you need. We have even included a selection of loops tracked through Lexicon fx if your looking for a little bit of inspiration.
NDS-303 Acid Jam features
1265 – 303 Loops in 24bit 44100hz WAV.
116 – Main TB303 Loops.
138 – Bassline Loops.
122 – Square Wave Loops.
188 – Lead Loops.
614 – Distortion & Driven Loops.
87 – Fx Loops.
Compatible with All samplers and sequencers using 24bit 44100hz WAV audio, you get the best sound, captured with no compromises.
NDS-303 is available to purchase for £24.99 GBP.
More information: Sound Factory / NDS-303 Acid Jam