NOIISE has launched FLUX:FX, a multi effect app for iPad by Adrian Belew.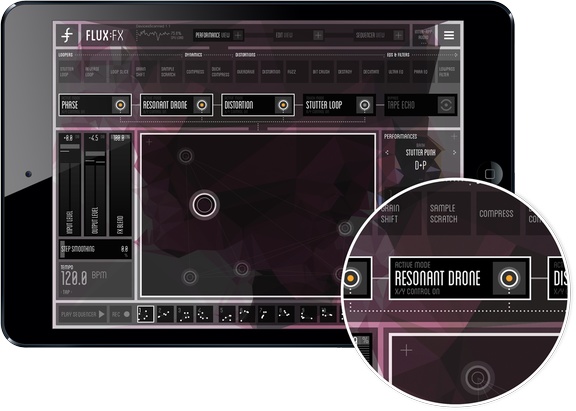 FLUX:FX is a professional multi-effect audio processor app for the iPad that lets you 'play' your effects.

Innovative, intuitive and exciting, FLUX:FX lets you manipulate any audio signal into something entirely new, and redefines the possibilities of audio and live performance in an app with an almost unlimited range of effect options.

FLUX:FX is a truly authentic digital platform for designing your sound.
FLUX:FX features
30+ studio-quality effects to choose from, and an almost unlimited range of settings to let you twist and sculpt your sound. Chain 5 together for maximum aural impact.
Touch-based automation sequencer for your effects that adds a completely new fluid dimension to your sound design.
Every parameter of every effect is editable, assignable and with the fine tuner dial, precise. That makes FLUX:FX a tweaker's paradise.
Beautiful, minimalist interface combining easy-to-use controls with a mesmerising liquid polygon audio visualizer. No fake road-worn pedal graphics here.
Designed and built from scratch as an iPad app, FLUX:FX is not a port from an existing plugin, it is MADE to be touched. And swiped, and dragged, and tapped. No tiny dials here.
Conceived and created via the combined talents of guitarist extraordinaire Adrian Belew, audio software developers ElephantCandy and mobile specialists MOBGEN.
Audiobus compatibility (including saved states), Inter-App Audio compatibility, super-fast MIDI, virtually all the audio interfaces… they just work with FLUX:FX.
Chopping, shaping, crushing and looping – FLUX:FX can take you from subtle modulating echoes through to wrecking-ball destruction, all with a swipe of a finger.
Ultra low-latency settings to give truly professional performance capabilities.
The app is available for purchase for $19.99 USD.
More information: FLUX:FX