Noise Engineering has announce the availability of the newest addition to its Ruina line of distortion modules and two contrasting oscillators for the 5U format.
Kith Ruina brings the utility of a guitar tonestack—complete with distortion and pristine EQ—to a Eurorack module.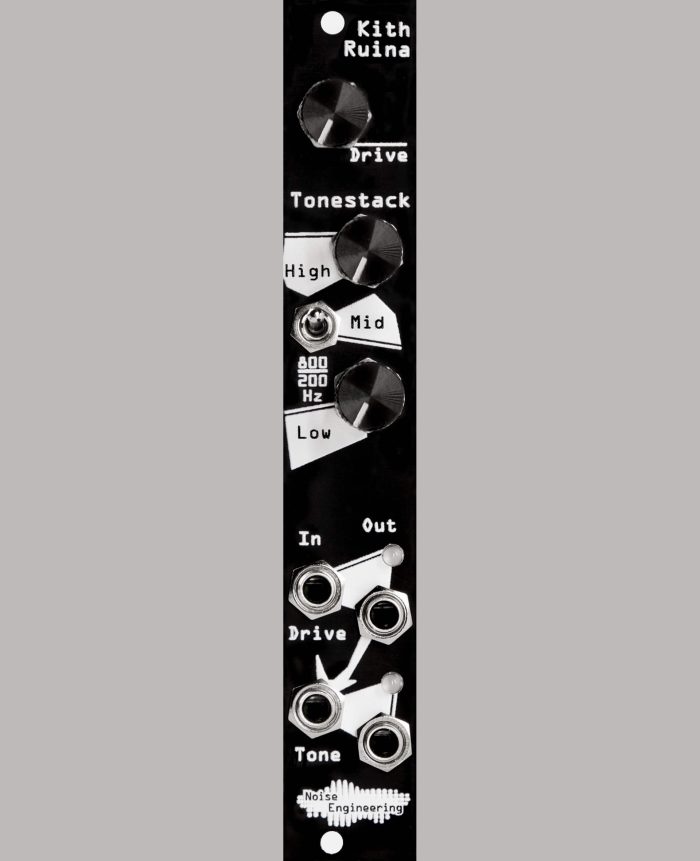 Noise Engineering announced earlier this year that they would be releasing a distortion module each month for part of 2019. Following Terci Ruina 's release in April, Kith Ruina has been announced as the next module in the series.
Kith Ruina is based on the concept of a classic guitar tonestack: a single-knob distortion circuit followed by a simple EQ. Warm saturation all the way up to complete overdrive is possible with the Drive circuit for endless tone-shaping possibilities.
The Tone section's EQ is clean and transparent, complementing the aggressive Drive section perfectly. The High and Low bands can both boost and cut, and has a switchable midpoint, offering much more versatility than your standard two-band shelving EQ.
Like Terci Ruina , Kith Ruina is 100% analog. The drive section is normalled to the tone so you can use both sections seamlessly. Prefer to use each section separately? KR also features separate ins and outs for the Drive and Tone circuits, so the analog EQ section can be used for mixing and tone-shaping utilities while its drive circuit simultaneously distorts other sounds, offering a surprising amount of utility in a 4 hp module.
With its wealth of features, low price point, and small size, Kith Ruina is sure to find a home in any system and any patch.
Kith Ruina costs $133 USD. It will ship May 17th, and you can preorder now.
Noise Engineering's first product, Ataraxic Translatron, was a smash hit, bringing them to the forefront of digital sounds in Eurorack. Followed by its bigger brother, Ataraxic Iteritas, Noise Engineering went into unexplored territory for what hardcore oscillators could sound like. Now, Ataraxic Iteritas Magnus brings the same sound engine to large-format synths. By popular request, Noise Engineering brings more experimental sounds to 5U with AIM.
AIM's sound creation starts with one of three sets of bit tables. Waveforms from these tables are then morphed, folded, comb filtered, noise modulated, and annihilated into what is by far one of the most aggressive and unrefined oscillators on the market. AIM encodes waveforms into tables for each of three modes.
In LFSR, the linear-feedback shift-register-based mode, the table is based on the same waveforms as the original Ataraxic Translatron, but get octave shifted differently. SQR is a square wave that is amplitude modulated by the harmonic series so turning the waveform knob will blend between harmonics. SQR2 is the same except the modulating pitch goes up an octave every waveform.
With these diverse ways of generating sound, AIM can be used for anything from simple 8-bit-like sounds to beautifully shaped pieces.
Cursus Iteritas Magnus is Noise Engineering's most melodic oscillator to date. Ported to 5U, Cursus Iteritas Magnus is sure to appeal to the more gently inclined sound designer as well.
Cursus Iteritas Magnus's tones are created from a dynamically generated wavetable. Spectral-like controls function similarly to a bandpass filter; center, width, and tilt allow the filter to be asymmetric.
CIM has three different modes based on different conceptualizations of frequency: Fourier, which uses sine waves; Daubechies, using wavelets, and Walsh mode, using the Walsh transform. The controls Cursus Iteritas Magnus parametrizes a wide variety of sounds, but because the sounds are all based off of orthogonal functions, it has a musical tone structure and can produce an extremely wide variety of harmonic sounds.
Oversampling of the wavetable depends on pitch: Oversampling of the wavetable depends on pitch: lower octaves have higher oversampling since the sample rate only varies by a factor of two. The Edge control interpolates the oversampling from point sampling to a cubic-spline interpolation (NURBS). As the period of the full length of the wavetable always evenly divides the sample rate, the additional aliasing is largely harmonic in nature.
In many places in the signal path, there are analog-style soft clipping stages to give more warmth and complexity to the sounds generated. CIM's tonal control leads to incredible flexibility, and it can be a lead, a bassline, or even percussive.
The modules are available for the introductory price of $355 USD each through June 24th, 2019 (regular $444 USD). Preorders are now open, and orders ship on May 24th.
More information: Noise Engineering