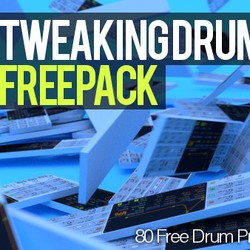 Noise Is King has launched TweakingDrums, a free sample pack featuring a collection of 80 handcrafted drum synthesizer presets for Ableton Live's Operator.
The pack includes 80 presets of kicks, snares, hi-hats, maracas, sound effects, cymbals, splashes, handclaps and other electronic percussion sounds.

All the sounds are made with Operator, that means you can tweak the sounds in virtually any way with all the sonic capabilities Operator has to offer.

The pack is organized by Kits, there are 10 Kits with 8 Drum presets each one.
The sample pack is a free download at Noise Is King.