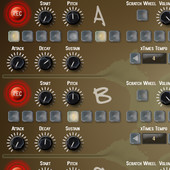 Noisebud has released CatchDad, a free instrument plugin for Windows.
CatchDad is the second Noisebud plugin created strictly for live situations, the first being StepDad where you can add a step sequenced ADSR filter/amplitude curve to any sound going through the plugin.

With CatchDad you can catch 4 different sounds with just the click of a button and instantly start to program rhythms with the built in step sequensers. The plugin is capable of building advanced rhythmic patterns with the different settings and we're working on a manual so that you'll be able to use it to it's full potential, but until we're done with the documentation you're on your own. It's basic functionality is pretty straightforward, you'll be droppin' beats within 20 minutes. Just send any sound, live or prerecorded through the plugin, press Record and you're on your way!
CatchDad for Windows (VST) is available to download as freeware.
More information: Noisebud