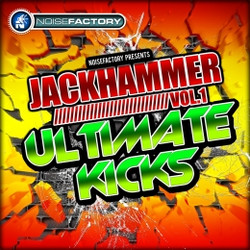 Noisefactory has launched Jackhammer Vol. 1 – Ultimate Kicks, a sample pack featuring kick drum samples for electronic music production.
No matter if it's progressive, electro, house, dubstep, complextro, big room or any other modern dance-music related style – when it comes down to the basement and punch of a track, the most important element is the bassdrum.

Jackhammer Vol. 1 comes with a big bunch of pre-processed kicks, which will give you the punch you need. Inspired by recent club- and beatport-toppers, this pack contains some of the "most sought after" bassdrums of now.

All kick drums in this pack are pre-processed and ready to drop. Many of them are also treated with distortion, overdrive, saturation, heavy compression, EQ or reverb to assure they'll have the biggest impact and punch to drive your next clubslammer.

In detail this pack contains 30 Distressed Kicks (distorted and compressed), 80 Ultimate Kicks, 20 Reverb Kicks and 50 Analog Kicks (sampled from well known analog classic drum synths).
The sample pack costs £9.95 GBP.
More information: Noisefactory / Jackhammer Vol. 1 Ultimate Kicks