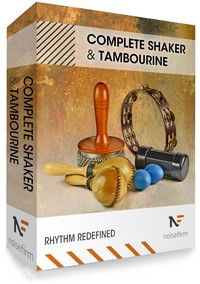 Noisefirm has released the Complete Shaker & Tambourine percussion sample library.
Complete Shaker & Tambourine features a wide array of percussive instruments and textures in meticulously organized and ultra-usable rhythm sets and samples.

From egg shakers and maracas to tambourines and caxixis, NoiseFirm CS&T is a comprehensive collection of groove-enhancing elements for your next project.

The full release includes all loop and sample content.
Complete Shaker & Tambourine features
33 different percussive textures: 3 Egg Shakers, 5 Studio Shakers, 3 Maracas, 5 Tambourines, 2 Tamshakers, 4 Caxixis, 4 Ethnic Shakers, 3 Household Shakers, 4 Miscellaneous.
Sample content

Kontakt (4 and later)

95 total velocity layers per articulation.
5 round robin groups, 19 velocity layers each.
33 instruments/articulations.
3135 Samples.
Custom scripting for enhanced performance and flexibility.

EXS:

95 velocity layers.
33 instruments/articulations.
3135 samples.

Each format includes 8 sampler instrument files: ALL, Shakers, Tambourines, Exotic, ALL lite, Shakers lite, Tambourines lite, Exotic lite. 3 "One shot" samples per instrument/articulation are also included for quick and easy use in your DAW/Sampler.

Loop Content

1518 total loops.
33 instruments/articulations.
46 unique rhythms per instrument.
Rhythms for both 4/4 and 6/8 (3/4) time signatures.
Loops available in both "Left Hand" and "Right Hand" patterns for a nearly infinite number of natural loop combinations.
Created using OmniGrüv technology for use at a massive range of tempos with no artificial time-stretching or audio degradation.
The sample library is available to purchase for $59 USD. The samples and loops are also sold separately for $49 USD each.
More information: Noisefirm / Complete Shaker & Tambourine