Noiz-Lab has announced the launch of the 7-Step Mastering Suite, a 7-step method makes home studio mastering easier than ever.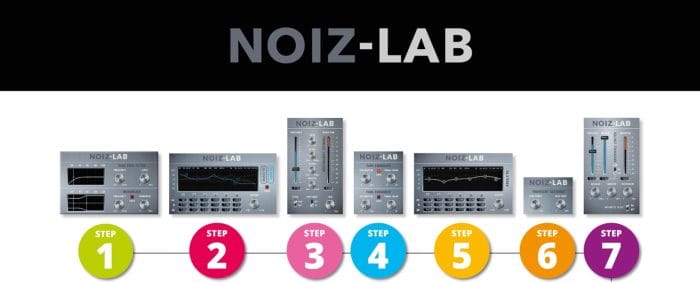 Any musician or producer working in a home studio will agree, mastering your own music is a real challenge, but essential nonetheless, if you want your music to stand out from the crowd. It can take years to learn which plug-ins to choose for certain tasks and to develop an effective workflow.

On the 1st of October the Dutch startup company Noiz-Lab (www.noiz-lab.com), introduces a solution specifically tailored to home studio users, called the 7-Step Mastering Suite. It's a complete mastering method consisting of seven high quality plug-ins, and a 7-step quick-start guide.

Workflow is the key
'Some people say you should leave mastering to the pros,' says JD Young, founder of Noiz-Lab. 'But most of our users successfully master their first track within one or two hours after installing our suite. Mastering is not magic. If you follow an appropriate workflow and know what to listen for, it's not even that difficult. What is difficult however, is developing such a workflow, because most mastering engineers are unwilling to share their secrets and make it seem like mastering is an overly complex matter. Relevant and concise information about the subject is therefore hard to come by.'

That's where Noiz-Lab comes in. 'The 7-Step Mastering Suite is as much a plug-in bundle as it is a learning tool. We provide home studio musicians and producers, with a basic mastering workflow that is easy to learn and fast to execute.' (Go to www.noiz-lab.com/listen-to-an-example for a video introduction.)

Consistency and simplicity
The seven plug-ins are similar in style and functionality, which makes them very easy and intuitive to use. 'We had a lot of help from our beta testers – about 200 in total, from all over the world,' explains JD. 'They really helped us fine-tune our workflow and find the balance between the complexity and the usability of the plug-ins.' For convenience the plug-in names are numbered in the order they should be placed in the mastering chain, but because they are separate plug-ins and are very CPU-friendly, they can easily be moved around or instantiated multiple times. 'I don't believe in automated mastering algorithms,' says JD. 'Mastering is as much a craft as an art. That's why we developed our 7-Step Mastering Suite as a basic workflow you can expand on or change to your liking after you gain experience.'

Want to try?
On www.noiz-lab.com you can download a free 30-day trial of the 7-Step Mastering Suite. The 7-Step quick start guide that comes with the trial contains a lot of plug-in independent mastering tips and might on its own be worth the download. Besides that, if you have any questions about the plug-ins or the 7-step guide, you can contact JD Young personally at JD@noiz-lab.com.

'It's important to me, as well as very enjoyable, to have contact with our users personally,' explains JD. 'Nobody was born a mastering engineer, and I vividly remember my own frustration trying to figure out how to master in my home studio when I started out. So, as a company, we want to be more than just a logo and a webshop – rather, we want to become a community for home studio users who are looking for answers about mastering.' If you like the 30-day trial, you can purchase an unlimited license for the 7-Step Mastering Suite for 109 US dollar or 99 euro, which is a fair price for seven high quality plug-ins compared to other manufacturers.

'Hearing the difference between a raw and a mastered track is a thrill every single time.' Do you want to hear for yourself how the 7-step Mastering Suite adds that professional touch? Go to www.noiz-lab.com for a promising sound sample.
The 7-Step Mastering Suite (VST/AU, AAX coming) is available for 99 EUR.
More information: Noiz-Lab