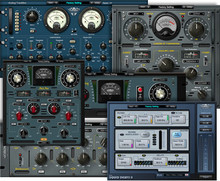 Nomad Factory has announced a new partnership with PC Audio Labs.
PC Audio Labs are master builders of Windows systems specifically tailored for audio production. They offer a wide selection of standard models including towers, laptops and rack mount systems.

They also build complete, professional, ready to rock, turnkey systems with the software you need already installed and authorized in their Custom Shop.

What wins PC Audio Labs the business of the pros is their reputation for standing behind their products and their users with personal, professional, customer service.

When you're considering a new Windows system for audio. You'll want to check out PC Audio Labs.

For the month of October 2010 we're combining forces to offer a special deal for Nomad Factory users. With the purchase of any two of our $149.00 bundles PC Audio Labs will give you $300.00 off of the purchase of a PC AUDIO LABS Rok Box or Custom Shop system.
More information: PC Audio Labs / Nomad Factory