Nomad Factory has announced the release of Garbage LSD (Lethal Sound Designer), a new multi fx effect plugin by Dmitry Sches for Windows and Mac.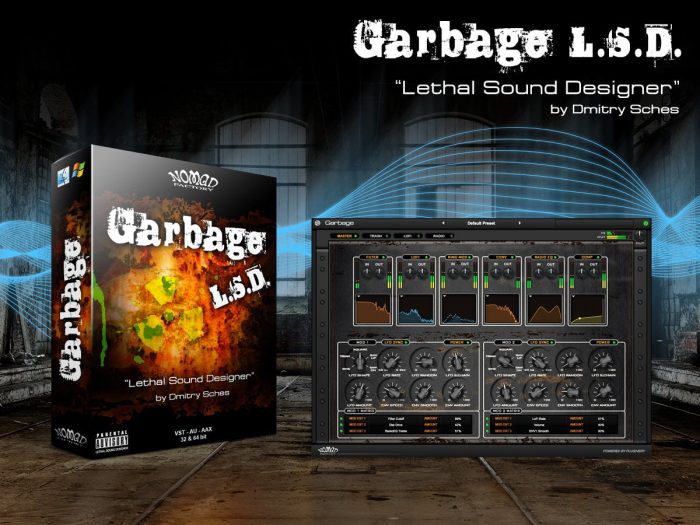 Plugivery, now handling the full development of the audio plug-in line for Nomad Factory, is proud to announce the release of their highly innovative product, GARBAGE LSD.

GARBAGE LSD is a mind bending audio transformation plug-in with user adjustable signal chain and dual modulation matrix. It provides a series of lethal modules to manipulate, distort, destroy and transform your sounds with radioactive modulation, junk EQs, warping convolutions and scummy filtering to name a few.

Using the various components of GARBAGE LSD enables one to create whacky new sounds to spice up mixes or create "innovative" textures never thought possible.

This audio destructor Plug-in can also trash any innocent audio signal path converting it to a highly hallucinogenic sensorial experience. Great for inspired Post-Production, DJs and Sound Designers alike. Parental guidance advised…
Garbage LSD features
Filters (6 unique filter types).
Distortion (3 distortion modes with colour adjustment).
Lo-Fi (bit depth, sample rate and noise control).
Ring Modulation (standard and amplitude modulation circuits).
Convolution Reverb (Impulse Response loader).
EQ (spectral loss EQ, reminiscent of transistor radios).
Compression (Analog Studio Rack comp, simplified with fixed controls).
Modulation Matrix (two modulators; modulate all parameters with LFO, Envelope follower and side chain feed, and modulate each other parameters: mod 1 and mod 2).
Garbage LSD for Windows and Mac (VST/AU/AAX) is available for an introductory price of $49 USD through December, 2016 (regular $129 USD).
More information: Plugivery / Nomad Factory Garbage LSD