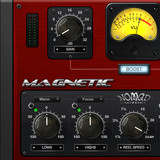 Nomad Factory has released Magnetic, a Reel-to-Reel Audio Tape Warming effect that gives your tracks the elusive vintage tape sound which your ears crave.
The plug-in features pure analog reel-to-reel tape speeds, tape/tube saturation and tape color effects, as well as a dedicated vintage style EQ and a built in Boost mastering section. The result is a creamy, warm sound that can only be achieved by MAGNETIC.

Never before has such a great sounding plug-in effect been so easy to use! At first touch, the plug-in's interface is modern, simple, and extremely user-friendly which instantly allows you to dial in usable sounds.

MAGNETIC can be used in many different musical ways. Try using it on individual tracks to add subtle warmth and tape color to your drums or use it to create a filtered cassette AM-radio effect on a vocal. But that's not all… when used on the master bus, MAGNETIC can warm your entire mix and "boost" it up to broadcast level. It's just like having a 30+ year old reel-to-reel tape machine at your fingertips, without all the maintenance costs.
Magnetic features
REEL SPEED controls the speed of the virtual tape machine. Higher speeds give you more studio-quality fidelity; lower speeds sound more like a cassette tape. The DASH setting gives you the highest-fidelity of digital audio tape predominately used in the 80's and 90's.
SATURATION gives different levels of tube and/or tape saturation effects. Recreates the warmth and character of classic tube circuitry and analog tape saturation.
TAPE COLOR provides the highly sought-after sound of Natural, Vintage and Modern Tape Compression.
LOWS controls the amount of low frequency equalization. Select the boost/cut frequency range with the Body, Warm, and Lush Settings.
HIGHS control the amount of high frequency equalization. Select the boost/cut frequency range with the Detail, Focus and Brilliance Settings.
BOOST switches on/off the built-in Mastering Limiter section. This incorporates multiple stages of limiting and a look-ahead brickwall limiter to deliver first-class peak reduction. Adjust the Gain and Ceiling Knobs to achieve High-Resolution Limiting.
GAIN sets the threshold for the incoming signal. Higher settings result in a louder sound.
CEILING sets the brickwall output level so that it limits all peaks above the number it is set to.
VU METER shows the amount of limiting taken place when the Boost circuit is engaged.
POWER bypasses the entire unit.
Magnetic for Windows and Mac (VST/AU/RTAS) is available to purchase from DontCrac[k] at the introductory price of $49 USD until 12 December, 2010 (regular $199 USD).
More information: Nomad Factory / Magnetic