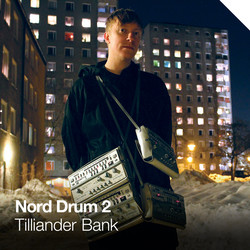 Nord has launched the Tilliander Bank, a free collection of drum kits for the Nord Drum 2.
Andreas Tilliander is a man of many aliases such as his most recent creation TM404, but perhaps you also have heard of Svaag, Skitus, Mokira, Lowfour or Rechord? TM404 made it's live debut at Berghain, Berlin during the CTM Festival in January 2013. Since then there's been sweaty gigs in lots of countries and places. Tokyo, Nagano, Taipei, Shanghai, New York City, Bern, Venice has all witnessed TM404 and his analog hardware live sets. Richie Hawtin is a fan and has invited the man behind TM404 twice to his Enter experience at Space, Ibiza

Andreas Tilliander is releasing three new records autumn 2014 as TM404, Mokira and Svaag. Tilliander's Nord Drum 2 bank concentrates on bring out the electronic soul of the machine in 25 amazing kits. The sounddemos were made using external sequencing with real-time controller changes and a minimum of external processing.
The Tilliander Bank is a free download from Nord. Requires Nord Drum 2 OS v3.00 or later.
More information: Nord / Tilliander Bank