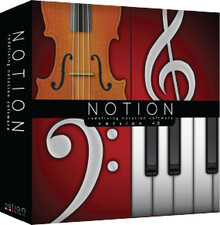 Notion Music has launched its Notion 4 notation software for Windows and Mac.
Notion continues to redefine notation software while staying true to its strengths: great playback, a simple easy-to-use interface, enhanced compatibility, and incredible customer service.

Compose, playback, and edit music with a quality and ease of use that must be experienced. No endless levels of menus to find what you need. Notion makes it easy to write your ideas quickly.

Notion provides the best playback of any notation product, with real audio samples performed by the London Symphony Orchestra. Guitar samples by Neil Zaza, bass samples by Victor Wooten, drums by Roy "Futureman" Wooten and much more, all recorded at top studios around the world.
Changes in Notion 4
Native 64-bit Support (Mac OS X and Windows).
Interactive Entry Tools (Keyboard, Fretboard, Drum Pad, Chord Library).
Compatibility with both Notion and Progression iPad Apps.
ReWire (64-bit) Host and Slave.
SequencerStaff and Sequencer Overlay.
MIDI Overdub.
Built-in Guitar Amp.
Improved MIDI Input.
VST and VSTi Compatibility.
Save as PDF.
Built-In Integration with VSL Special Edition Plus 1, 2, 3, and 4, Miroslav Philharmonik, and others…
Save Directly to SoundCloud.
Improved Compatibility with MusicXML, MIDI, and Guitar Pro Files (ver. 3-5).
User-Interface Updates and Enhancements.
And much more…
Notion 4 for Windows and Mac is available to purchase for $99 USD.
More information: Notion Music / Notion 4