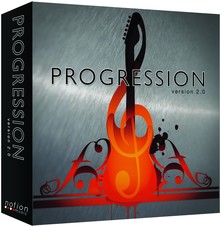 Notion Music has introduced Progression 2.0, a composition software for guitar, bass and drums.
Progression, the most intuitive tab, notation, songwriting, and composition software for guitar, bass, and drums is back and more powerful than ever. With a brand new design you can now more easily enter tab or notation and hear your music play back with real instrument samples.

Progression makes it easy to create your own guitar tab, lead sheets, and standard sheet music complete with an audio track of you own.

Seamlessly integrated with real audio samples. Guitars samples by Neil Zaza, bass samples by Victor Wooten and drums by Roy "Futureman" Wooten, all recorded at top studios around the world.
Progression 2 features
Write guitar tab and notation.
Real-time updating between tab and notation.
Custom tab and alternate tunings.
Supports 7-string guitar and 5-string bass.
Interactive fretboard, keyboard and drum pad.
ReWire 64-bit (host and slave).
VST compatibility.
Drum patterns included.
SequencerStaff and Sequencer Overlay.
Native 64-bit support (Mac OS X and Windows).
Built-in amp simulator.
MIDI overdub.
Integrated audio mixer.
Export audio, MIDI, MusicXML.
Save directly to SoundCloud.
Compatibility with Notion 4, Notion and Progression iPad apps.
Save as PDF.
Import MIDI, MusicXML, and Guitar Pro files (version 3-5).
Progression 2.0 for Windows and Mac is available to purchase for the introductory price of $49 USD.
More information: Notion Music / Progression