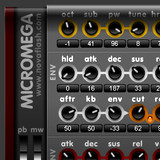 Novaflash has released Micromega, a free virtual analog bass synthesizer instrument for Windows.
Micromega features
Max. polyphony of 10.
1 x VCO saw (low note deflated, high note inflated).
1 x SUB (detune, PW).
Adjustable harmonic (VCO + SUB).
1 x noise generator.
1 x VCF HADSR envelope (analog shape, fast).
1 x 24dB VCF, 2 colors (custom + moog).
1 x distortion.
1 x VCA envelope (analog shape, fast).
MIDI Learn.
Mono mode.
Random preset generator.
Micromega is available to download as a freeware VST instrument for Windows PC.