The latest offer for members of Novation's Sound Collective community is a trio of uniquely evocative plugins by Puremagnetik.
Comprising two effects and a synthesizer, the Lo-Fi Ambient Tools provides the electronic producer and sound designer with three intuitive, inspiring and experimentally rewarding production tools.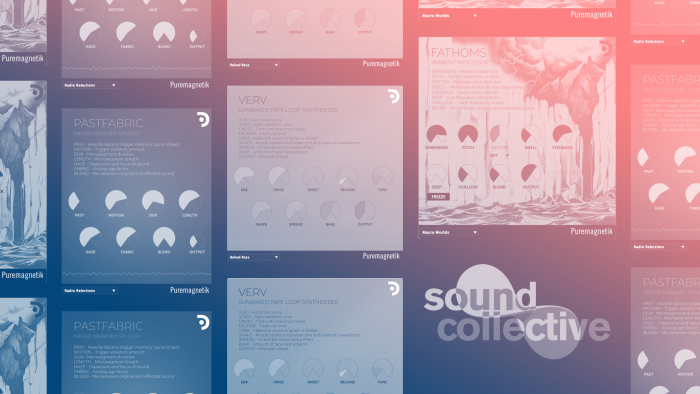 The bundle includes the Verv synth which emulates sun-baked, tape-recorded vintage string machines. Pastfabric brings together granular and tape splicing-style audio deconstruction, and Fathoms is a self-contained ambience- and drone-generating effect based on pitch shifting, feedback delay and physically modelled reverb.
"While they may not be known to some, Puremagnetik's plug-ins are certainly deserving of a big reputation," says Sound Collective Product Manager Jonathan Campbell.

"Verv is a crazy concept, based on some old string synths but with a 'Bake' feature added on top – this makes for some beautiful lo-fi sounding tones. Pastfabric is something of a time travelling plug-in, reaching back into the past and bringing forward chopped-up versions of the incoming audio file to create super interesting ambient layers – a pure experimentation tool. And Fathoms is basically the 'glistening pads' cheat code that can turn almost any sound source into a beautiful, ambient soundscape. It works especially well with vocal samples!"
Worth $50 USD, Lo-Fi Ambient Tools is downloadable for free by all Sound Collective members until December 5th, 2019.
To join Sound Collective, simply register any Novation product, then look out for a new offer every couple of months
More information: Sound Collective