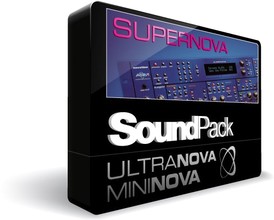 Novation has announced the release of the Supernova SoundPack, a free collection of 64 patches from the Supernova synthesizer.
Novation's ground-breaking Supernova set the standard for virtual analogue synthesisers when it was released in 1998. With its comprehensive modelling of traditional analogue subtractive synthesis, powerful multi-effects engine and filter, the award-winning rack-mount Supernova and its successor, Supernova II, were the most powerful synths of their time.

Sound designer Phil McDonald created the iconic sounds of the Supernova that changed the sound of dance music at the turn of the Millennium, powering classics by Orbital, ATB, Jean Michel Jarre and A Guy Called Gerald, plus many more. Now, with the massive revival of interest in the sounds and music of the period, Novation is proud to announce the release of two new soundpacks for the MiniNova and UltraNova, containing sounds from the original Supernova sound banks, by the original sound designer. These soundpacks give you the original classic sounds of the turn of the century – and they're absolutely free. Listen to the demo on SoundCloud here.

The first of the two soundpacks, with 64 sounds, is available now, as part of Novation's 21st Anniversary celebrations, with the second pack available later in the year.
The SoundPack is a free download. Requires MiniNova or UltraNova Librarian application (also free).
More information: Novation / Supernova SoundPack