Novation has released version 1.3 of the firmware for Circuit, the grid-based groove box.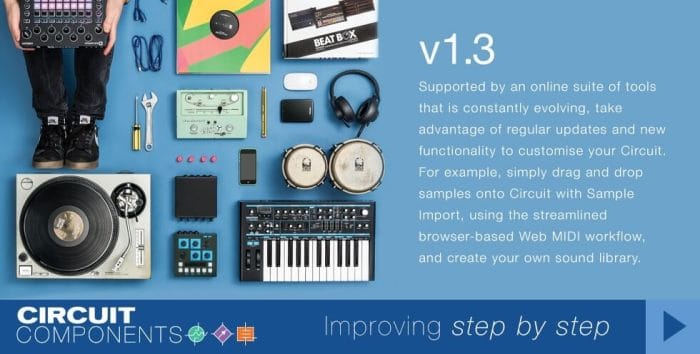 Circuit is designed to inspire. Two Novation polysynths and a four-part drum machine, combined with an intuitive grid-based sequencer in a standalone box that will have you making electronic music in minutes. Hit some pads, tweak the knobs and your track will start to emerge, all locked in time and key. Play around with effects, patterns and sounds in real time, to produce your track, brimming with fat grooves and beats.
Changes in Circuit firmware v1.3
Sample Flip

You can now switch samples in real time! This is massive because it means that you can now use all 64 of your samples on each drum part and switch them on any step.
You can also audition samples by tapping pads in drum patch View. Each pad will play the sample as well as select it, and everything you do in here can now be recorded in real time. This is seriously powerful especially when you have loaded your own samples.

Infinite Envelope

To enhance the sample playback we have added an unlimited envelope length option – Turn the envelope control all the way to the right and your loops will no longer fade.

Organising Sessions

You can now colour your sessions to group them together and to easily identify what you have saved where.

Sample Automation

Changing drum selection no longer resets drum macros so you can play and record automation while changing samples.
We've added the ability to reset drum macros using the CLEAR button. Hold CLEAR and turn a macro knob left to clear automation as before, and right to reset the macro to it's default value.

Performing with Muted Tracks

You can now play drum steps in velocity view even when a drum track is muted. This means you can hear the automation and sample changes as you perform the steps in real time.
Circuit is available for purchase for £289.99 GBP. The new firmware is available for download at Circuit Components.