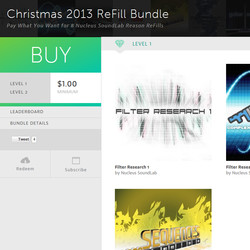 Nucleus SoundLab has announced its Christmas 2013 ReFill Bundle, a limited time offer on selected ReFills.
Ho Ho Ho! Nucleus SoundLab returns this holiday season, ready to spread some Christmas cheer for Propellerhead Reason users with their newest ReFill Bundle! In the Christmas 2013 ReFill Bundle, Nucleus SoundLab has lined up an amazing smorgasbord of audio delights at Pay What You Want pricing.

For a minimum of $1 – their lowest minimum price ever – you'll snag two of the best effects ReFills ever created in Filter Research 1 & 2, as well as the exotic wavesequenced sounds of NanoSequences. $112 worth of ReFills for a minimum price of a single dollar… But make no mistake, these ReFills are worth infinitely more in a capable Reason producer's hands!

Or, pay $40 or higher and get ahold of five more incredible ReFills – GuitarScapes, Pantheon II, ReCombination, MK Digital Keys and you'll also complete the effects ReFill trilogy with the epic Filter Research 3. Our calculator exploded when attempting to determine the total discount of this deal – but we can tell you the total value of this bundle at regular price is over $370!
The sale ends December 28th, 2013.
More information: Nucleus SoundLab / Christmas 2013 ReFill Bundle