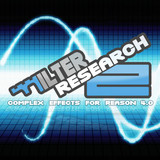 Nucleus SoundLab has announced the release of Filter Research 2, a new effects ReFill for Propellerhead Reason and Record.
Filter Research 2 is a continuation of the concept of complex effect devices built in the Reason environment. Far from just simple reverb or chorus devices, each patch in Filter Research 2 is a creative effect that will supercharge even the most bland mix or instrument.

The original Filter Research has yet to be matched in terms of quality effects devices for Reason. Filter Research 2 builds on this strong foundation, but exceeds its predecessor in every way. New this time, are effect patches controllable by keyboard MIDI input; as well as a wide variety of sequenced effects with inbuilt patterns; of course, a huge selection of filters that go beyond LP/BP/HP are present and accounted for. Ducking delays, crunchy envelope-followed distortion devices, and spectral processors are just some of the other highlights.

In addition to the perpetual Nucleus SoundLab focus on quality – including detailed documentation, unique patches and fully-mapped Combinator controls – Filter Research 2 introduces the Epic Combinator. These are a special category of patch that take Reason sound design beyond even our own high standards. These patches are detailed and flexible enough to compare to standalone VST effects plugins, or hardware effect devices. Not only that, but they feature an absolutely massive variety of customized Thor controls to complement the standard Combinator rotaries and buttons. Finally, each Epic Combinator is described in detail in video documentation – so you can make the most of their possibilities. Make sure to watch one of the video examples of this documentation for more info on Epic Combinators!
Filter Research 2 features
200+ Combinators included.
PDF manual describing each Combinator.
New more detailed manual format.
5 Epic Combinators – including video documentation.
All Combinators created from scratch.
Each Combinator has all 4 rotaries/buttons uniquely assigned.
Requires Reason 4+ either standalone or together with Record.
Filter Research 2 is available to purchase as a download for $59 USD. For 30 days, Nucleus SoundLab customers and newsletter subscribers can purchase for only $49 USD.
More information: Nucleus SoundLab / Filter Research 2