NUGEN Audio has launched a limited sale with a 50% discount on its audio mastering plugins that are designed to ensure your tracks sound great wherever they're played back.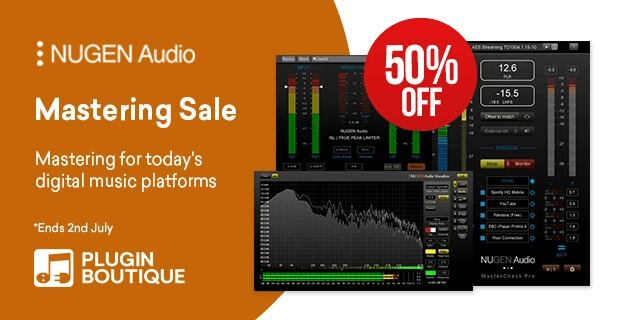 MasterCheck allows you to produce attention grabbing masters for the listener, directly to Apple, Spotify, DAB Radio and TV specifications.
MasterCheck is the complete optimisation solution for today's delivery services, a plug-in providing the tools to make sure your music reaches the listener as intended. Streaming apps, download stores and podcasts all use data compression, loudness normalisation or both. These processes can affect your track in undesirable ways: your loud, punchy mix could end up quiet and flat, or suffer clipping and distortion.

MasterCheck reveals these problems ahead of time and enables you to deliver masters perfectly tuned for specific playout systems.

MasterCheck demonstrates the effects of loudness normalisation so you can find the sweet spot between perceived loudness and dynamics, and allows you to hear artefacts introduced by the encoding process ahead of time. You can quickly find the point where these processes will start to negatively impact the music, putting you back in control.
Regularly $199 USD, MasterCheck is on sale at Plugin Boutique for $99 USD until July 3rd, 2020.
Adding powerful True Peak limiting and audio analysis, the Modern Mastering Bundle (MasterCheck, ISLst & Visualizer) is on sale for $149 USD during the promotion.
More information: NUGEN Audio