At the 2016 AES Show in Los Angeles, NUGEN Audio will present its latest innovations in high-end mix, mastering, and post-production software, including new products and significant feature updates.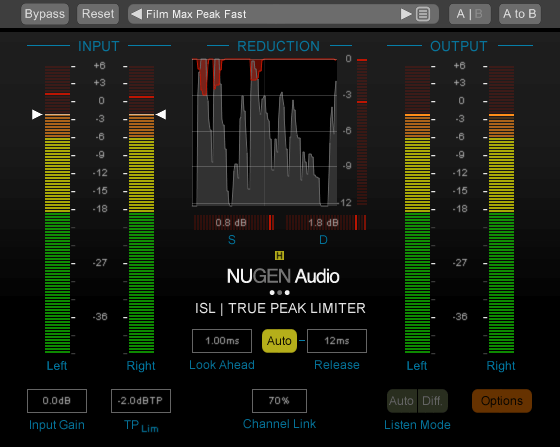 "At the AES convention in Los Angeles, we look forward to feedback and discussion as we pioneer new software to help producers ensure their music is heard exactly the way they want it, taking into account lossy codecs, loudness normalization, and playout processing in online music platforms.
MasterCheck and ISL 2 are just the first steps in our ongoing mission to enable music producers to maintain the quality of their audio within today's digital distribution environments."
— Jon Schorah, Founder and Creative Director, NUGEN Audio
Mastering for Music Streaming Services: MasterCheck and ISL 2 True-Peak Limiter
NUGEN Audio will highlight MasterCheck, which was recently launched to considerable acclaim and recognized as the first product of its kind to empower producers to create music in the new audio paradigm of loudness normalization for music streaming.
Loudness normalization and true-peak limiting techniques are now the norm for streaming services such as YouTube, Apple Music®, Spotify, and DAB radio. With MasterCheck, producers are able to mix audio to these new criteria and understand not only how algorithms from the major streaming platforms will affect the mix, but also how the music will sound when delivered to the consumer. In this manner, producers can assure the quality of the audio all the way down the transmission chain to the listener.
At the AES convention, NUGEN Audio will showcase recent updates to MasterCheck, including new presets for Spotify and YouTube, a compact mode, solo buttons, and support of the new AES streaming recommendations. In addition, the NUGEN Audio development team will be available to discuss the development of MasterCheck Pro, an upcoming new product that will radically expand the capabilities of MasterCheck to include codec conversion and auditioning.
NUGEN Audio will also demonstrate its ISL 2 true-peak limiter, offering the essential true-peak compliance producers need to prepare audio for streaming services. ISL prevents the distortion that often results from the codec conversions required to deliver audio via online platforms. Providing highly robust, transparent true-peak limiting suitable for high-end mix and mastering applications, ISL 2 is available in stereo (ISL 2st), surround, and newly optimized Avid HDX versions (ISL DSP).
Halo Upmix: Now With Multichannel-to-Multichannel Upmix Capability
Available in Avid AAX, VST, and AU formats, Halo Upmix automates the creation of a stereo-to-surround, downmix-compatible upmix with unique center-channel management and spatial density controls. Halo Upmix combines several technologies, including frequency and time-domain energy distribution and neural network artificial intelligence, enabling producers to target various upmix goals including full stable surrounds, exact downmix matching, and/or full dialog isolation.
For the first time in the U.S., NUGEN Audio will demonstrate Halo Upmix's new multichannel-to-multichannel upmixing feature, delivering even greater versatility and significant time savings in the production of surround audio. The latest version of Halo Upmix adds a brand-new set of algorithms for upmixing from multichannel audio — LCR, Quad (4.0), 5.0, 5.1, 7.0, and 7.1 — to either 5.1, 7.1, or 9.1 (7.1.2). In addition, the new upgrade includes many other modifications designed to enhance user operability and finesse the interface-customization process.
New: AMB Audio Management Batch Processor
NUGEN Audio will also demonstrate its new AMB Audio Management Batch processor, a suite of modular software that enables post-production facilities to speed workflows significantly and reduce delivery times for a range of different tasks, such as surround upmixing and loudness management. AMB is now available for Windows® and OS X® and offers new features including threaded algorithm processing and multiple processing threads that are addressable for simultaneous parallel handling of files and queues.
AMB comes standard with two watch folders/processing queues and two independent processing threads. If users need extra power and speed, the AMB Queue Expansion provides additional watch folders/processing queues, and the AMB Thread Expansion activates additional processing threads up to a total of 16.
A range of module options, along with new customization features in the AMB processor, enable customers to carry out a greater range of audio-processing tasks than ever before. The following modules are available immediately:
AMB Upmix Module for automated upmixing of stereo/multichannel audio to 5.1 or 7.1
AMB Loudness Module for rapid, file-based loudness analysis, logging, and correction
AMB DynApt™ Module, which allows dynamic adaptation for content repurposing and LRA targeting
AMB ProRes and MXF Modules for native processing of PCM audio in ProRes, .mov files, or MXF files.
The NUGEN Audio team will be on hand to answer questions at booth 203 (Avid Partner Pavilion).
More information: NUGEN Audio