NUGEN Audio has announced version 1.2.0.0 of its Halo Downmix plugin for precise surround balancing, mix monitoring and sophisticated stereo fold-down.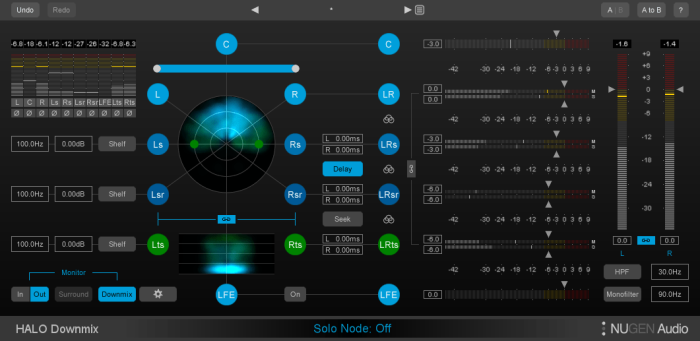 The maintenance release includes a new Netflix preset.
Produce better downmixes and enhance the downmix compatibility of your surround mixes. 5.1, 7.1, advanced and compact interfaces perfectly designed for the task in hand, maximising screen real estate. Multiple monitoring modes, quick mute and solo controls promote rapid assessment and critical listening tests. Halo Downmix is the ideal complement to any surround workflow.
Changes in Halo Downmix v1.2.0.0
New ranges for downmix coefficients.
Added new LFE enable control.
Added new LFE filter cutoff control.
GUI bug fixes.
New Netflix preset.
Updated version number.
Updated manual.
This is a recommended free update for all existing users.
New users can purchase Halo Downmix for $299 USD from NUGEN Audio and distributor Plugin Boutique.