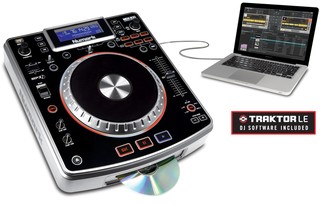 Numark has announced the NDX800 Controller, a professional software controller with Traktor LE and MP3/CD/USB playback.
NDX800 Controller is a high-performance controller for DJs who blend different kinds of music sources. Whether your music is on your computer, USB flash drives or CD, you can perform with it using NDX800. This digital deck has the feel and layout you're used to, with a twist of Numark innovation.
NDX800 Controller features
USB-MIDI DJ Controller with CD/MP3/USB player.
Control software and play from CDs, MP3 CDs, or USB flash drives.
Premapped for use with Virtual DJ, Traktor, and compatible with virtually all MIDI compatible DJ software..
Player includes Beat-synced DSP effects with wet-dry fader: chop, echo, filter, flanger, pan, phaser.
Smooth, fast, reliable, slot-loading drive.
Large, seven-inch, touch-sensitive illuminated platter with auto-calibration.
Control MIDI software with no timecode needed via USB.
Adjustable start and stop time for vinyl-like deck performance.
Automatic BPM analyzer and Tap tempo for manual BPM entry.
Adjust pitch ±6, 12, 25, and 100%, in half steps (semitones), or bend with pitch buttons.
Key Lock holds pitch while you independently manipulate its BPM.
Seamless looping, sampling, and easily accessible hot cues.
Keep time moving forward while you cut or reverse the track using Bleep/Reverse.
Single-track, continuous, shuffle, and programmable playback.
Fader Start plays the cued track when you move the crossfader (requires compatible mixer).
Large, backlit display for BPM, CD/MP3 text tags, and folder navigation.
Outputs: stereo RCA, digital S/PDIF.
More information: Numark / NDX800 Controller