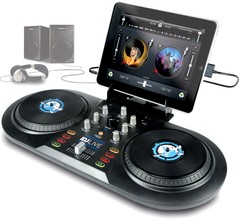 Numark has introduced the iDJ Live, a DJ software controller for iPad, iPhone or iPod.
iDJ Live is the easiest way to become a DJ with your iPod touch, iPhone or iPad. This iOS-DJ controller is perfect for anyone from Pro DJs to music lovers who have never tried DJing before. The iDJ Live system harnesses the processing power of your iPad, iPod or iPhone and enables you to DJ parties, events and even clubs using the music that is already on your iPod via Algorithm Djay or other Core MIDI-enabled apps.
iDJ Live features
DJ parties of all sizes with your compatible iPad, iPod, or iPhone.
Perfect for beginners and seasoned pros alike.
Large scratch wheels for natural scratch feel.
Crossfader enables you to mix between songs.
Headphone/Speaker split cable included to allow you to seperate cue and play performance audio.
iPad stand included.
Plug-and-play works with iOS Core MIDI DJ software.
Polish your mix with Bass and Treble controls.
Browse your iPod music library quickly and easily in your chosen DJ software.