Numark has announced the availability of the NS7 II, a dramatically enhanced and updated version of the industry's most advanced and best-selling 4-channel motorised DJ controller/mixer.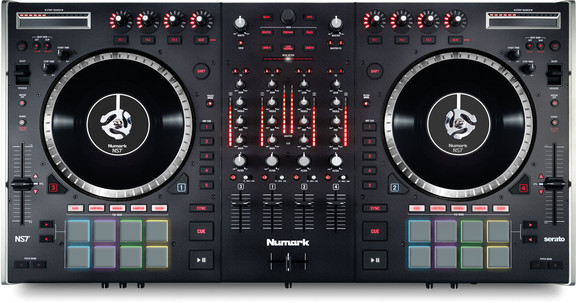 Numark has set a breathtaking pace for digital DJ'ing for more than 20 years, empowering DJs with cutting-edge technology to continually advance the art form to hitherto unparalleled heady heights. In 2007, Numark and Serato® unleashed the original NS7, a clever controller/mixer combo that brought a level of performance with digital media that had never before been achieved, accurately reproducing the look and feel of vinyl, beautifully blurring the boundaries between different DJ'ing eras so successfully that it made them almost indistinguishable. Since then, the powerful practice proffered by the NS7 has defined top-tier DJ performance, perfectly setting the bar by which all other controllers can be justifiably judged. Until now, that is!

Now Numark is pushing contemporary DJ performance capabilities even further forward with its all-new NS7 II, incorporating iconic technology from Akai Professional, music production technology trendsetter and creator of the MPC legendary lineup. The NS7 II's 16 MPC® pads can be instantly assigned to control five dynamic performance features in Serato DJ — namely, CUES, AUTO/ROLL, LOOP, SAMPLER, and SLICER. Moreover, each pad features RGB illumination, allowing for an almost endless amount of colour variations via MIDI. Vinyl platter control has never felt more familiar courtesy of its high- and low-torque motorised platters with real slip mats and real vinyl sitting on 3,600 ticks of resolution!
NS7 II features
7-inch motorized turntables with ultra-high-resolution MIDI (3600 ticks per rotation).
4-channel mixer and 24-bit audio interface built in.
16 multi-color MPC® pads from Akai Professional.
Capacitive touch-sensitive filter, EQ, and effects knobs.
Genuine vinyl discs and real felt slipmats for unmatched tactile control.
The most intuitive and seamless control for Serato DJ available.
Connect and mix CD players, turntables, MP3 players, or any other external source.
Mixer can operate standalone, with or without your computer.
High- and low-torque turntable settings.
Comprehensive Loop, Sample, Slicer, and Hot Cue controls.
Strip Search™ virtual needle-drop technology.
Serato DJ software included.
Curve-adjustable CP-Pro crossfader.
Dedicated iZotope® effects controls.
Rugged all-metal construction.
The NS7 II costs 1,199 EUR / $1,499.95 USD / £999 GBP.