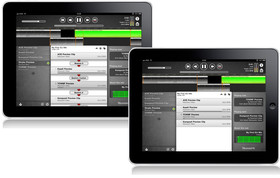 Numark has introduced iDJ, a new app which allows you to create seamless, synchronized playlists using your iTunes music library on iPad.
iDJ allows anyone to make instant, continuous mixtapes of their favorite songs all blended together as one in perfect rhythm. As fun as it is powerful, iDJ's elegant interface and patented technology will have you assembling customized soundtracks that ignite, accompany and enhance every occasion. Whether for workouts, road trips, dance parties or any other event, iDJ keeps your music moving and completely in time for an exciting new playlist experience.

iDJ's music management system is both simple and streamlined letting you quickly build playlists using any song within your iTunes music library. More than just a lightning-fast method of building mobile mixtapes, however, iDJ's patented BPM (beats per minute) detection technology makes your music meld together as one. As you add songs, iDJ analyzes their sonic-waveforms, calculates tempos and then automatically performs optimal transitions throughout the playlist. In the DJ world, it's called "beat-matching"; the art of sequencing multiple songs in succession at the same speed as if one continual song. The end result being a playlist that flows from start to finish as a cohesive track.
iDJ features
Create seamless, synchronized playlists of your iTunes music library on iPad.
Automatically detects songs' tempo and performs crossfades in perfect time.
Mix up to four songs at once for a completely new playlist experience.
Playlists can contain an unlimited number of songs.
Playlists can support audio WAV, MP3 and AAC files.
Easily manage your iDJ music using Itunes 9.2 (or later) on Mac or PC.
iDJ for iPad is available to purchase from the iTunes App Store for $9.99 USD.