Numerical Audio has released RF-1, a reverb app for iPhone and iPad.
RF-1 comes with a number of unique reverb algorithms including Tremolo, Ensemble and VintageVerb.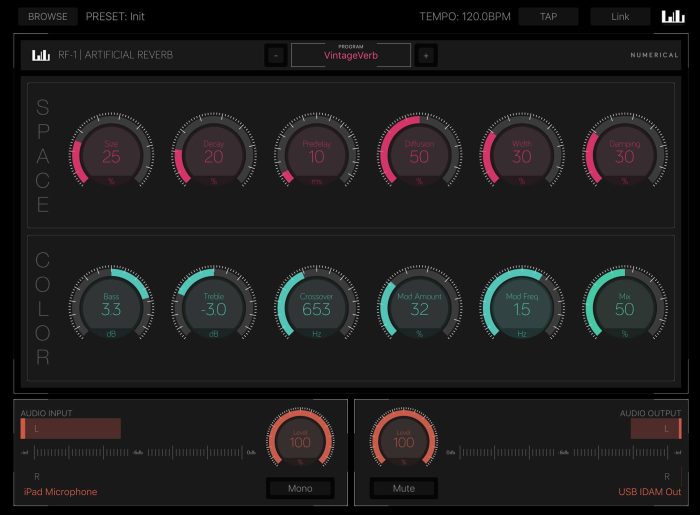 RF-1 integrates with AudioUnit Hosts over Audiobus and Inter-App Audio and USB Interfaces.

RF-1 also comes with multiple reverb algortihms, a standalone application, true stereo processing and a plethora of tweakable controls.
RF-1 features
5 Unique reverb programs:

Hall – Clean and bright sounding space with subtile modulation and gradually building density.
Plate – Dark, highly diffused sound with high initial echo density and dark modulation.
EnsembleVerb – designed for wide spaces with deep modulation.
TremoloVerb – Large, bright and always moving with amplitude modulation at the output.
VintageVerb – Dark, noisy reverb modeled after the first digital reverbs from the late 70s. (10kHz bandwidth / 12bit processing).

Space section with individual controls for Size, Decay, Predelay, Width & Damping.
Color section with high and low shelving filters, variable crossover, modulation frequency & amount.
True Stereo Processing.
Standalone operation with Mic/Guitar Input or USB Audio.
AudioUnit Extension for multiple instances running simultaneously.
Inter-App Audio and Audiobus support.
Universal Application.
The RF-1 app is available for purchase for $5.99 USD.
More information: Numerical Audio / RF-1