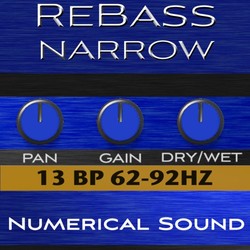 Numerical Sound has announced the release of ReBass Narrow, a Rack Extension for the Reason music production software by Propellerhead Software.
ReBass uses convolution to target bass frequencies with extreme precision, emphasizing just a perfect fifth while leaving the surrounding material untouched.

This means no messing around with endless sweeping and tweaking – just target the range you want from C0-G0 (31-46Hz) to B3-F#4 (233-394Hz) by picking one of the 36 impulses. Each impulse is one semitone higher than the last, so you don't have to think like an engineer to get a great sound – it's quick, clear and free of the phasing artifacts and imprecision EQ can introduce.
ReBass Narrow features
Extreme precision bandpass, rolling off 110 dB within 1.5 semitones from the target range, only possible through convolution and something that traditional EQs cannot match.
36 impulse organized by starting pitch cover 3 octaves from C0-G0 (31-46Hz) to B3-F#4 (233-394Hz).
Audiophile Design: Supports 44.1, 48, 88.2, 96 and 192 KHz sample rates, with accurate detail, ultra-low noise floor and utmost transparency.
Easy to Use Controls: Impulse List, Stereo Width, Gain, Pan and Dry/Wet controls make it easy to mix and shape the bass.
Smooth CV based automation can be used Stereo.
Width, Gain, Pan and Dry/Wet to creatively change your sound.
ReBass Narrow is available to purchase for 55 EUR.
More information: Numerical Sound / ReBass Narrow