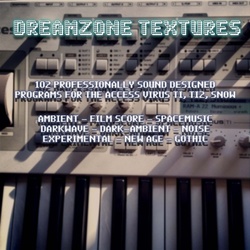 Numina has released Dreamzone Textures, a professionally designed sound bank for the Access Virus TI series of synthesizers, featuring 102 unique programs geared toward deep space ambient, experimental, dark-ambient, ethereal, new age, moving textures, film scoring, gothic, noise, etc.
The programming for this sound set was produced by long time electronic musician and sound designer Jesse Sola who has over 20 years of experience programming synthesizers and producing electronic ambient music which has been featured on syndicated radio programs like Hearts of Space, Star's End, SOMAFM, and many others. Additionally, the sound designer has produced ambient music for commercial use and several SONY ACID Loop Libraries and has been working with the Virus line of synthesizers for over 10 years.

Each patch has been meticulously designed from the ground up, making ample use of modulation sources and nearly all patches make use of all 3 soft knobs and the mod wheel to further manipulate the sounds. Take a listen to the YouTube audio demo of many of the sounds on this sound set. Note that all sounds in the following demo video are 100% from my Access Virus TI2 with no additional overdubs, effects, or mastering.
The soundset is available for the introductory price of $19.99 USD for a limited time (regular $24.99 USD).
More information: Numina / Dreamzone Textures