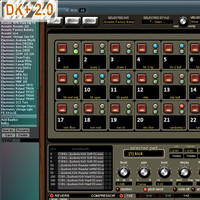 NUSofting has released version 2.0 of DK+ Virtual Drums, a drum sequencer plug-in for Windows.
DK+ offers 24 fully programmable drum pads, 6 output busses (3 stereo + 3 mono), an audio compressor/limiter for each stereo bus, a powerful step sequencer and many more features.
Changes in DK+ v2.0
Seq : 32 steps visible for each seq page.
Seq : extended toolbar for Track Functions.
Seq : easier track selection.
Pad : enhanced dynamic envelope.
Pad : smooth attack with variable time.
Pad : filter saturation.
Pad: FX send with new Reverb algorithm.
Large and easy to use tabbed GUI.
Kit and Style browser, with Save, Delete and Rename functions.
Updated kit library, with 48 kits from vintage drum machines to ethnic percussions.
64-bit VSTi version.
DK+ 2.0 for Windows (VST) is available to purchase for $86 USD. The update from version 1.5 is $21 USD.