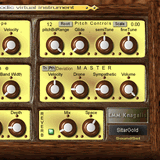 NUSofting has announced a Mac beta version of EMM Knagalis, an ethnic melodic virtual instrument plug-in.
EMM Knagalis is a specialized and multi featured VSTi sample player, modeled around the structural elements of Sitar, the famous Indian lute . But its sound set also includes many other ethnic stringed instruments, as well as percussive and melodic instruments from the world stage. Instruments like Turkish Lute, Mbira (thumb piano), Santur, Shamishen .

There is even a bagpipe, a wind instrument, an instrument for which EMM Knagalis is ideal, with its legato playing style and drone accompaniment. EMM Knagalis brings these instruments to life.
More information on the Mac beta version (VST/AU) can be found here.
NUSofting has also updated the Mac version of Strings Dream Synthesizer, a virtual string machine instrument.
Changes in Strings Dream Synthesizer (Mac version)
Fixed rare noise burst with Mac VST.
Added audio input to the instrument.