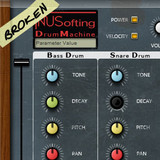 NUSofting has announced the release of a ModPack Utility for Broken Drum Machine, a virtual circuit bent drum synthesizer for Windows and Mac.
The BDM Installation Tool is a new application to speed up swapping of Modpaks in BDM plugin, currently on on Windows but the Mac program should be ready next week.
Two default (updated) ModPacks are shipped with the BDM installer:
Factory_First_Modpack.zip
Branis_ModPack.zip
A new ModPack for BDM is now available as well; Ethronome, a pack featuring tabla samples, and MIDI patterns and presets by KVR member blortblort.
The "BDM Installation Tool" is free software GPL licensed, C++ sources available.
More information: NUSofting / ModPack Utility