NUSofting has released version 2.1 of Peti, a harmonium/accordion instrument plugin, which now includes 64-bit versions for Mac OS X and Windows in AU and VST plugin formats.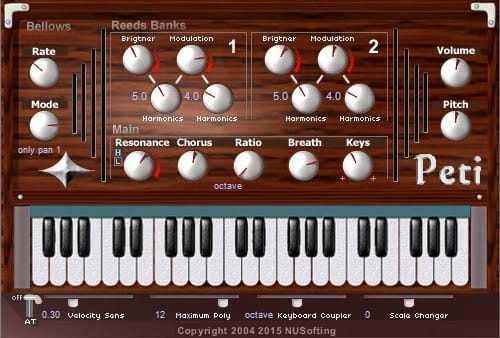 Peti uses an hybrid FM/PM synthesis to emulate the sound of the bronze or brass reeds brought into vibration by hand moved bellows, just like in the accordion. The sound engine is flexible enough to simulate harmoniums of various size, accordions and even the melodica often heard in reggae dub music.

Peti plugins supports multiple MIDI learn and adjustable aftertouch sensitivity.
Changes in Peti v2.1
64-bit compatibility.
Full source code review.
Small GUI changes.
Peti is available for purchase for $48 USD until November 5th, 2015, after which the price will go up to $65 USD. The upgrade is free for all existing users. A large GUI is planned for the next update.